Helping Relieve Pet Anxiety One Bed At a Time.
Our mission is to help minimise pet anxiety through smart, thoughtful product engineering.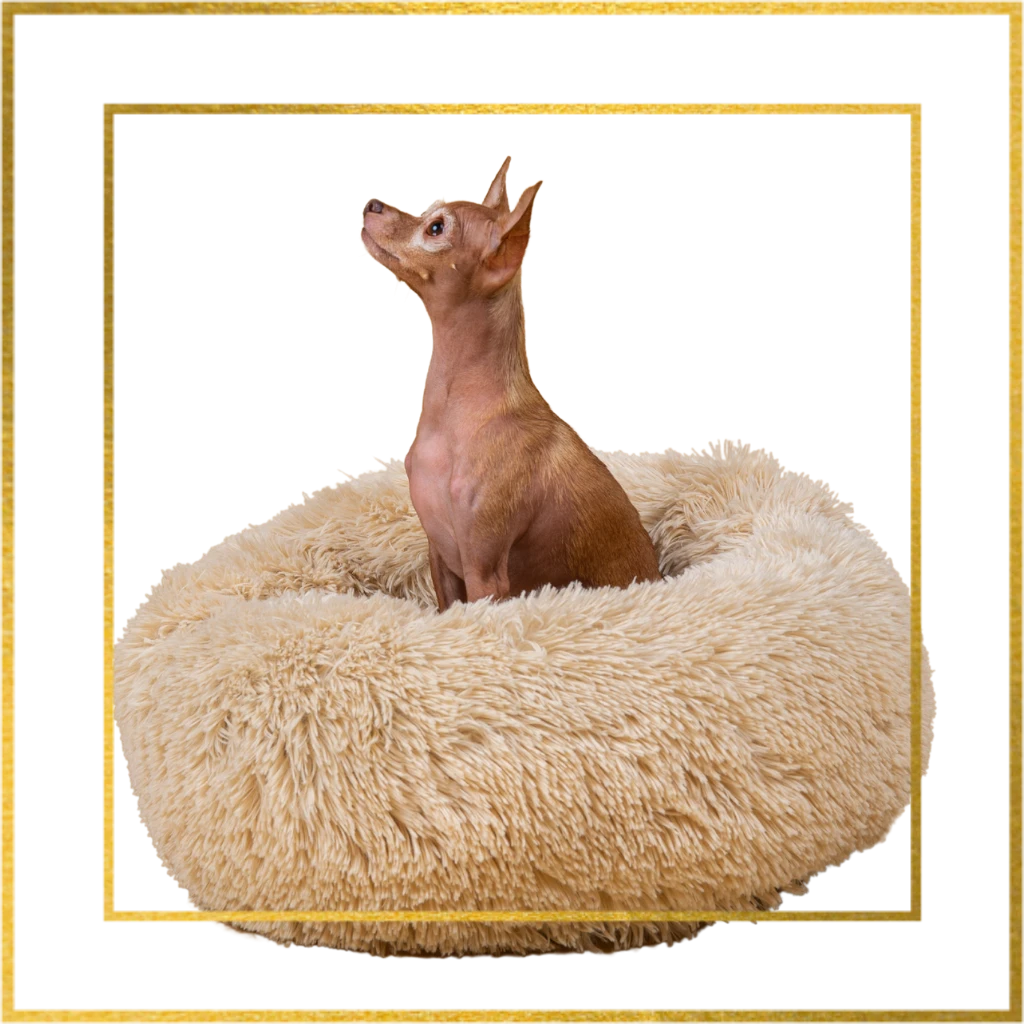 Did You Know?
Globally, a little over 70% of dogs manifest anxiety like behaviors. In addition the average adult dog sleeps between 12-14 hours per day (almost 60% of their entire life). 
Our Mission
We believe in choosing a pet bed that truly replicates a pet's natural sleep environment. As such we hope our pets can live happier and healthier lives, with less anxiety and stress. 
Our aim is to produce the perfect beds that help soothe and relax your pet. We want to help reduce pet anxiety one bed at a time.
Our Calming Dog Bed Range.
Take a look at our most popular range of calming beds.
Regular price

From $79.95 USD

Regular price

$89.95 USD

Sale price

From $79.95 USD

Unit price

per

Regular price

From $45.00 USD

Regular price

$51.99 USD

Sale price

From $45.00 USD

Unit price

per

Regular price

From $99.00 USD

Regular price

$109.00 USD

Sale price

From $99.00 USD

Unit price

per
Why Choose Us?
Learn why we're different to other dog bed alternatives in the market. We don't believe in cutting corners.
Removable Cover

Unlike some of the cheaper alternatives we don't recommend washing the whole pet bed. Our quality calming pet beds come with a machine washable removable cover so you can easily wash and dry them.

30 Day Money Back Guarantee

We are so confident in our calming dog bed range that we offer a 30-day satisfaction guarantee. If you (or your fur-baby) are not 100% happy, you can send it back to us for a full refund of the purchase price.

Raised Edges for Stress Relief

There's nothing more calming than being able to gently rest your head. Raised edges on our calming beds aim to provide added stress relief by providing a natural place for them to snuggle in and rest their head.

Free Shipping

We provide free shipping all over the US. Don't worry about paying extra to have your pet beds delivered to you. Shop with confidence that you won't be paying unnecessary shipping fees.

Hundreds of Happy Customers

We pride ourselves on customer satisfaction. It's at the heart of everything we do. Join hundreds of happy customers who absolutely adore their calming beds. We're sure you'll feel the same way too.

Fast Support Team

Our dedicated support team is on hand If you ever have any questions or issues arise with your order. Feel confident your in safe hands. Customer happiness is our number one priority.
Frequently Asked Questions
How long will it take for my pet bed to arrive?

We aim to deliver your order as quickly as possible. Due to increased demand, orders will typically take between 4-8 business days to arrive.
How do I wash my calming pet bed?

Our calming pet beds are designed with removable covers so that washing is easier, and high levels of hygiene can be maintained. 

We recommend washing the removable outer cover separately from other items on a delicate cold cycle in order to maximise the lifespan of the bed. If required, the inner inserts can be wiped with a damp cloth (but similar to pillow inserts, should not be machine or hand washed)  

Both the outer fur cover and the separate inner plush pillows and filling are 100% polyester. This material has been used deliberately for its durability, softness, and importantly its ability to dry faster than other materials. 

If hanging the items up to air or drip-drying after washing, we highly recommend hanging the items in direct sunlight as polyester can dry in as little as an hour this way. Also, the sun's ultraviolet (UV) light helps avoid (and even kill) mold. 

Do not wring or twist, do not bleach, do not tumble dry, do not iron, and do not dry clean; either the outer cover or the inner pillows.
How does your 30-day satisfaction guarantee work?

In the off-chance that your fur-baby doesn't love its new bed you can return it to us within 30 days of receiving it. To organise this simply email our support team and we will send you instructions on where to send your package. Please note, the item must be in an unused i.e resellable condition.
Do calming pet beds actually work?

Unfortunately there is currently a lack of scientific research on the efficacy of calming beds. There is however a growing body of anecdotal evidence to support the calming nature of these beds as a whole (just take a look at our reviews).

We encourage all of our customers to take up our money back guarantee which allows you to genuinely test our beds out to ensure your pup is 100% happy with it. We cover all costs including return postage so you can feel confident giving it a try without being out of pocket. Check out our refund policy for the full details and exclusions.
What materials are your donut shaped and sofa calming pet beds made from?

Both the outer fur cover and the separate inner plush pillows and filling are 100% polyester. This material has been used deliberately for its durability, softness, and importantly its ability to dry faster than other materials.
Why should I choose The Calming Dog Bed over other dog bed retailers?

Unlike the more general pet bed companies, we specialise in calming pet beds. Our removable cover, extra inner padding, raised edges, and luxurious soft faux fur are features that are selected to maximise the feeling of calm in your pet and reduce feelings of anxiety. Don't settle for second best.
How do I know what size calming bed is right for my pet?

Please check out our sizing chart on each product page for sizing recommendations. In general the ideal size should be large enough for your pet to circle around in but small enough that they can feel as much of the sides as possible when curled up. 

If you still have further questions feel free to contact us directly and we'd be happy to assist.
Meet Our Veterinarian
"The Calming Dog Bed has raised edges which provides an optimal feeling of comfort and relaxation for your dog. 
The thick and soft padding also helps relieve stress on pressure points which is vital for joints and healthy aging."
Dr Danielle Morosco, (DVM) Veterinarian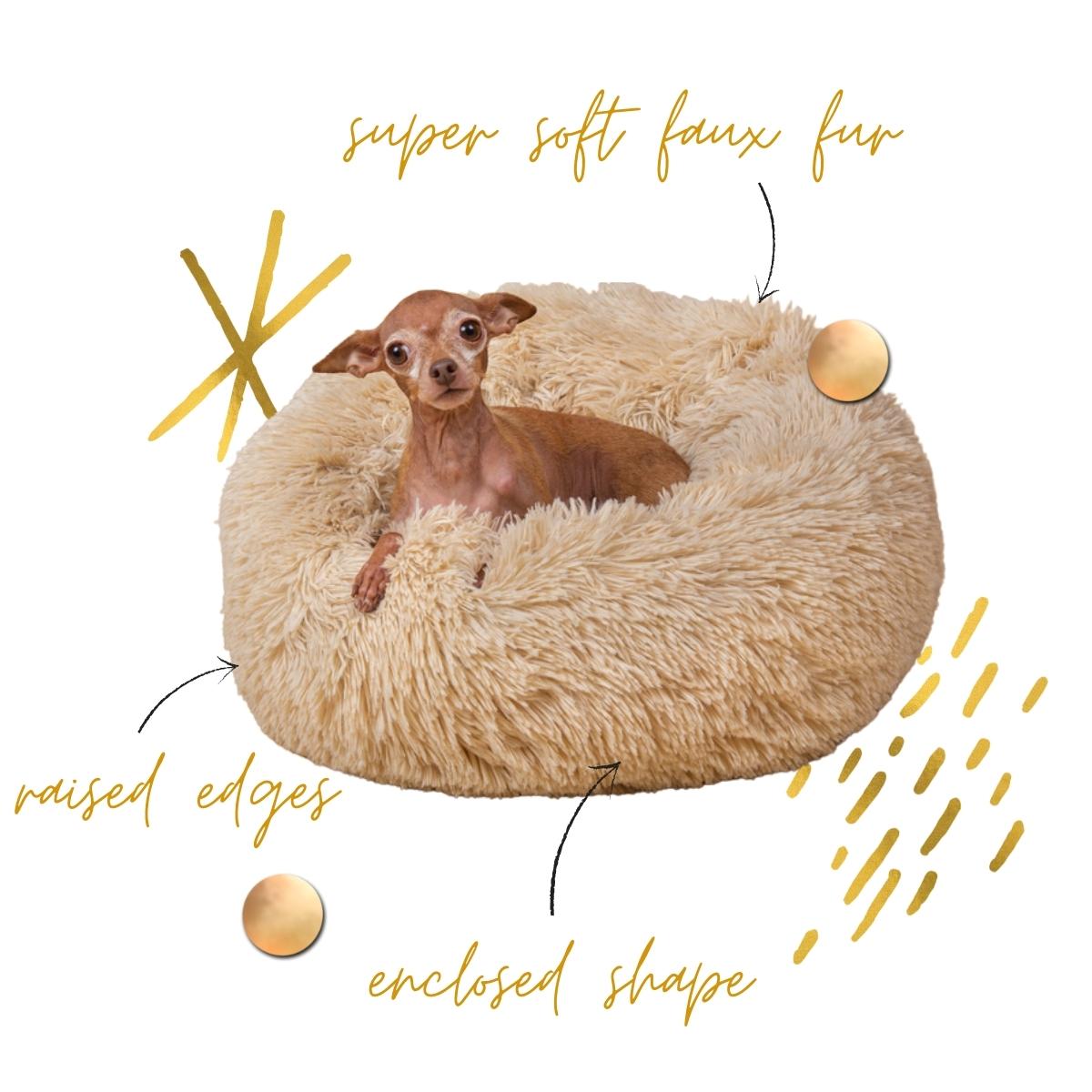 What Makes a Pet Bed a 'Calming Bed'?
Attempting to replicate your pets early sleep environment.
The early stage sleep environment of your pup is nestled side-by-side with its litter mates or alongside it's mother. Calming beds aim to replicate this early sleep environment in order to help your pup feel enclosed, safe and protected. 
A faux-fur, raised rim calming bed aims to make your pet feel like it's being hugged by their mother or litter mates. That's what makes a pet bed a 'calming pet bed'.